Report Illegal Immigrants
Report Illegal Immigration or Illegal Immigrants: Report Illegals!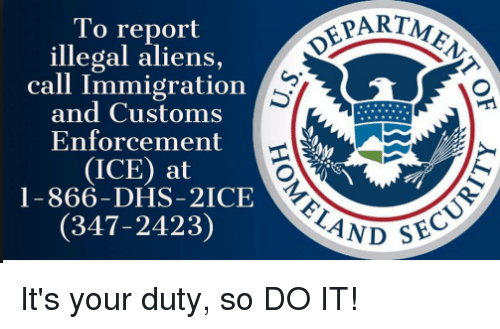 Many people visit this website and others like it to report illegal immigration or to report Illegal immigrants who are stealing American jobs and taxpayer resources, or are engaging in identity theft, document fraud, and a host of other illegal activities.
While we would encourage everyone with solid evidence of illegal immigration or employers hiring illegal immigrants to file a report with the Department of Homeland Security, we have some bad news to share.
There is less than a 1% of a 1% chance that Barack Obama's Department of Homeland Security or Immigration and Customs Enforcement (ICE formerly INS) will take any action on your report. While it is still illegal to be in America illegally, and illegal for any company to hire an illegal immigration, Barack Obama has suspended most of these immigration and border laws. Anyone that does the research will see many problems with Obama and Illegal Immigration.
Instead of being under the Rule of Law and Constitutional governance as you expect, your government is helping illegal immigrants instead of you. Your government is more likely to try and help make illegal aliens into legal immigrants, or to hand out healthcare, welfare, jobs, in-state tuition for illegal immigrants or driver licenses for illegal immigrants instead of enforcing our existing Illegal Immigration Law!
Factions in control of the US are currently providing a form a defacto illegal immigration reform amnesty for illegals despite the outcry of protest from legal American citizens!
So please use this phone number below to call in your reports of illegal immigrants, illegal immigration, and those who hire illegal immigrants, but don't hold your breath expecting the American government to do their job. Illegal immigrants are part of an invading political army that is backed by traitors inside our own government at this time.
Remember that you should only file a report if you have solid and direct evidence that people are violating an American Illegal Immigration Law.
Immigration and Customs Enforcement (ICE)

Toll Free: 1 (866) 347-2423
1-866-DHS-2ICE
Department of Homeland Security (DHS)

Mailing Address: U.S. Department of Homeland Security, Washington, D.C. 20528
Citizen Lines:
Operator Number: 202-282-8000
Comment Line: 202-282-8495