Illegal Immigration Reform and Immigrant Responsibility Act
Illegal Immigration Reform and Immigrant Responsibility Act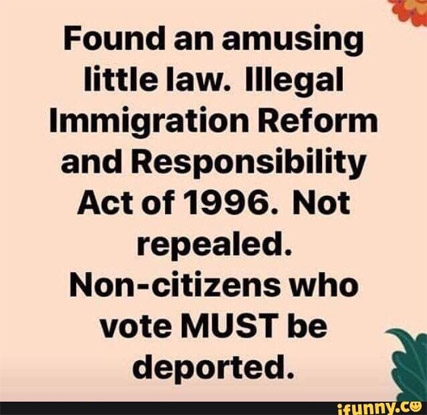 The Illegal Immigration Reform and Immigrant Responsibility Act of 1996 is also called IIRIRA or IIRAIRA and is considered legislation that was supposed to crack down on the large surge in illegal immigration caused by Reagan's Simpson-Mazoli Act Amnesty legislation of 1986.
The IIRIRA added restrictions to asylum application cases, enabled more fencing and barriers on the southern border, and made it illegal for any illegal immigrant to apply for legal status for a minimum of ten years if caught in the US.
The Illegal Immigration Reform and Immigrant Responsibility Act made illegal entry to the US a civil matter, which allows Border Patrol agents to quickly deport illegals when apprehended without bogging down American court systems with lengthy due process to illegal invaders.
This act increased the number of Border Patrol agents on US borders and the number of INS agents investigating Visa overstays, and allowed federal employees to expedite the removal of illegal aliens.
Other facets of the Illegal Immigration Reform and Immigrant Responsibility Act of 1996 were–
Three new pilot programs for employment eligibility verification and exemption from liability for employers who made a good faith effort to verify the legal status of employees.
Increased fees for individuals with expired legal status who want to switch to permanent residency from $650 to $1,000.
Made non-citizens and illegal aliens who claim they were battered (many times falsely) eligible for welfare, made it illegal for states to give driver's licenses to illegal immigrants, and made such individuals ineligible for social security benefits and in-state college tuition rates. Many American states now flagrantly violate this law by giving illegals licenses and in-state tuition.
Requires affidavits of support from sponsors of legal immigration applicants, including making such affidavits legally enforceable against the sponsor, requiring sponsors to be adult U.S. citizens or permanent residents, and requiring sponsors to earn incomes of at least 125 percent of the federal poverty level.